Hey, thanks for stopping by Jingjie's place on the Internet. I am currently a Ph.D. candidate in computer engineering at the University of Wisconsin—Madison, advised by Prof. Younghyun Kim and Prof. Kassem Fawaz :).

My research focuses on various aspects of human-centered computing: I design usable, sustainable, and privacy-aware interfaces for smart device users. I started my exploration from affective computing during my bachelor study. Now in Madison, I have been working on a series of projects including user authentication, user privacy of interactive systems, and usable privacy communication. I also work with brilliant folks here to design power-efficient computing systems. I am happy to learn and apply a wide spectrum of skills in HW/SW design, machine learning, quantitative and qualitative methods (and more!) to solve practical problems through these projects. (For more information, please refer to my CV.)

I enjoy building tangible gadgets that would make our lives more fun to exhaust the daydreams hoarded up during the Wisconsin winter.
Education
Ph.D. Candidate in Computer Engineering, University of Wisconsin—Madison (09.2017 to Present)
Master of Science, University of Wisconsin—Madison (09.2017 to 05.2019)
Bachelor of Engineering (R&D) (First-Class Honours), Australian National University (07.2015 to 07.2017)
Research Experience
Research Scientist Intern, Visa Research (05.2022 to Present)
Visiting Scholar, Max Planck Institute for Security and Privacy (09.2021 to 12.2021)
Undergraduate Scholar, Commonwealth Scientific and Industrial Research Organisation (11.2016 to 02.2017)
Research Student, Australian National University (07.2015 to 07.2017)
Research Focus

Highlighted Projects

Kalεido: Real-Time Privacy Control for Eye-Tracking Systems
Jingjie Li, Amrita Roy Chowdhury, Kassem Fawaz, Younghyun Kim (USENIX Sec'21)
Kalεido provides privacy for streaming eye gaze data in real-time by local differential privacy. We implement Kalεido in Unity, which acts as an tunable intermediary privacy control knob for various eye-tracking systems including mixed reality.
---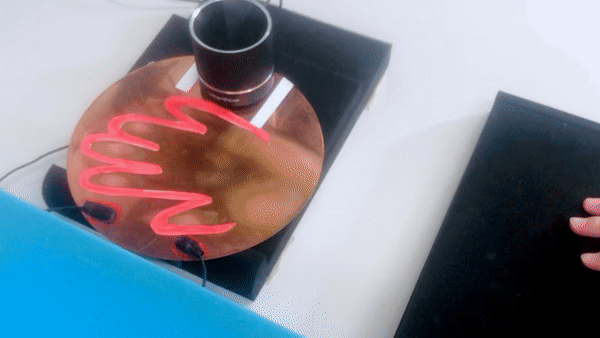 Velody: Nonlinear Vibration Challenge-Response for Resilient User Authentication
Jingjie Li, Kassem Fawaz, Younghyun Kim (ACM CCS'19)
Velody is a biometric user authentication that leverages nonlinear vibration challenge-response. By updating the unique and complex nonlinear challenge-responses used in authentication, Velody thawrts the threats from reusing/modelling static biometrics.
---
Publications
"It's up to the Consumer to be Smart": Understanding the Security and Privacy Attitudes of Smart Home Users on Reddit
Jingjie Li, Kaiwen Sun, Brittany Huff, Anna Bierley, Younghyun Kim, Florian Schaub, Kassem Fawaz
IEEE Symposium on Security and Privacy (S&P), 2023

The Portrayal of Children in Smart Home Marketing
Kaiwen Sun, Jingjie Li, Yixin Zou, Florian Schaub and Chris Brooks
Workshop on Kids' Online Privacy and Safety (KOPS)@Symposium on Usable Privacy and Security, 2022

uBrain: A Unary Brain Computer Interface
Di Wu, Jingjie Li, Zhewen Pan, Younghyun Kim, Joshua San Miguel
International Symposium on Computer Architecture (ISCA), 2022

UNO: Virtualizing and Unifying Nonlinear Operations for Emerging Neural Networks
Di Wu, Jingjie Li, Setareh Behroozi, Younghyun Kim, Joshua San Miguel
International Symposium on Low Power Electronics and Design (ISLPED), 2021

uGEMM: Unary Computing for GEMM Applications
Di Wu, Jingjie Li, Ruokai Yin, Hsuan Hsiao, Younghyun Kim, Joshua San Miguel
IEEE Micro (Special Issue on IEEE Micro Top Picks), 2021

Kaleido: Real-Time Privacy Control for Eye-Tracking Systems
Jingjie Li, Amrita Roy Chowdhury, Kassem Fawaz, Younghyun Kim
USENIX Security Symposium (USENIX Sec), 2021 (Accepted, summer acceptance rate: 12%)

Using Implantable Biosensors and Wearable Scanners to Monitor Dairy Cattle's Core Body Temperature in Real-Time
Hanwook Chung, Jingjie Li, Younghyun Kim, Jennifer Van Os, Sabrina Brounts, Christopher Choi
Elsevier Computers and Electronics in Agriculture, 2020

Detecting Personality Traits Using Inter-Hemispheric Asynchrony of the Brainwaves
Roneel V. Sharan, Shlomo Berkovsky, Ronnie Taib, Irena Koprinska, Jingjie Li
International Conference of the IEEE Engineering in Medicine and Biology Society (EMBC), 2020

uGEMM: Unary Computing Architecture for GEMM Applications
Di Wu, Jingjie Li, Ruokai Yin, Hsuan Hsiao, Younghyun Kim, Joshua San Miguel
International Symposium on Computer Architecture (ISCA), 2020 (Acceptance rate: 18.3%)

Personality Sensing: Detection of Personality Traits Using Physiological Responses to Image and Video Stimuli
Ronnie Taib, Shlomo Berkovsky, Irena Koprinska, Eileen Wang, Yucheng Zeng, Jingjie Li
ACM Transactions on Interactive Intelligent Systems (TiiS), 2020

Approximate Hardware Techniques for Energy-Quality Scaling Across the System
Younghyun Kim, Joshua San Miguel, Setareh Behroozi, Tianen Chen, Kyuin Lee, Yongwoo Lee, Jingjie Li, Di Wu
International Conference on Electronics, Information, and Communication (ICEIC), 2020

MicPrint: Acoustic Sensor Fingerprinting for Spoof-Resistant Mobile Device Authentication
Yongwoo Lee, Jingjie Li, Younghyun Kim
EAI International Conference on Mobile and Ubiquitous Systems: Computing, Networking and Services (MobiQuitous), 2019

Velody: Nonlinear Vibration Challenge-Response for Resilient User Authentication
Jingjie Li, Kassem Fawaz, Younghyun Kim
ACM Conference on Computer and Communications Security (CCS), 2019 (Acceptance rate: 16%)

SAADI-EC: A Quality-Configurable Approximate Divider for Energy Efficiency
Jackson Melchert, Setareh Behroozi, Jingjie Li, Younghyun Kim
IEEE Transactions on VLSI Systems (TVLSI), 2019

Detecting Personality Traits Using Eye-Tracking Data
Shlomo Berkovsky, Ronnie Taib, Irena Koprinska, Eileen Wang, Yucheng Zeng, Jingjie Li, Sabina Kleitman
ACM CHI Conference on Human Factors in Computing Systems, 2019 (Best Paper Award, top 1%)

SAADI: A Scalable Accuracy Approximate Divider for Dynamic Energy-Quality Scaling
Setareh Behroozi, Jingjie Li, Jackson Melchert, Younghyun Kim
ASP-DAC (Asia South Pacific Design Automation Conference), 2019

Continuous and Wireless Skin Contact and Ear Implant Temperature Measurements and Relations to the Core Body Temperature of Heat Stressed Dairy Cows
Hanwook Chung, Jingjie Li, Younghyun Kim, Christopher Y. Choi
ASABE ILES (International Livestock Environment Symposium), 2018